Nashville Tornado Storm Relief
In the early morning hours of March 3, 2020, a devastaing tornado struck Nashville, leaving wide-spread destruction throughout the city. Following the tornado was COVID-19, a pandemic that stopped a lot of progress on tornado relief clean up and created even further economic hardship. True to our identity as part of the Methodist movement, we are part of the first in, last out team of people caring for our neighbors. We must all work together to ensure equitable recovery for all members of our community. Our survivors in Nashville are resilient and powerful! We have forged new relationships with community organizations we want to sustain as we continue this long term work of recovery. 
---
We have had a number of requests for people who want to help in the wake of the tornado. We have a generous and wonderful church who in the early days of the tornado relief effort provided generators, meals for volunteers, and clean up supplies.  Thank you West End!
Since March, we have been part of the Tornado Recovery Connection - a group of United Methodists from our conference who have taken on the area of Disaster Case Management and Screening. Two of our own, Rachel Ternes and Geoff Parker have been working on Disaster case screening, making sure impacted neighbors have been contacted and screened in case they need on going case management for a full recovery. If you know of neighbors or if you yourself need more resources, please call them: 615-270-9255.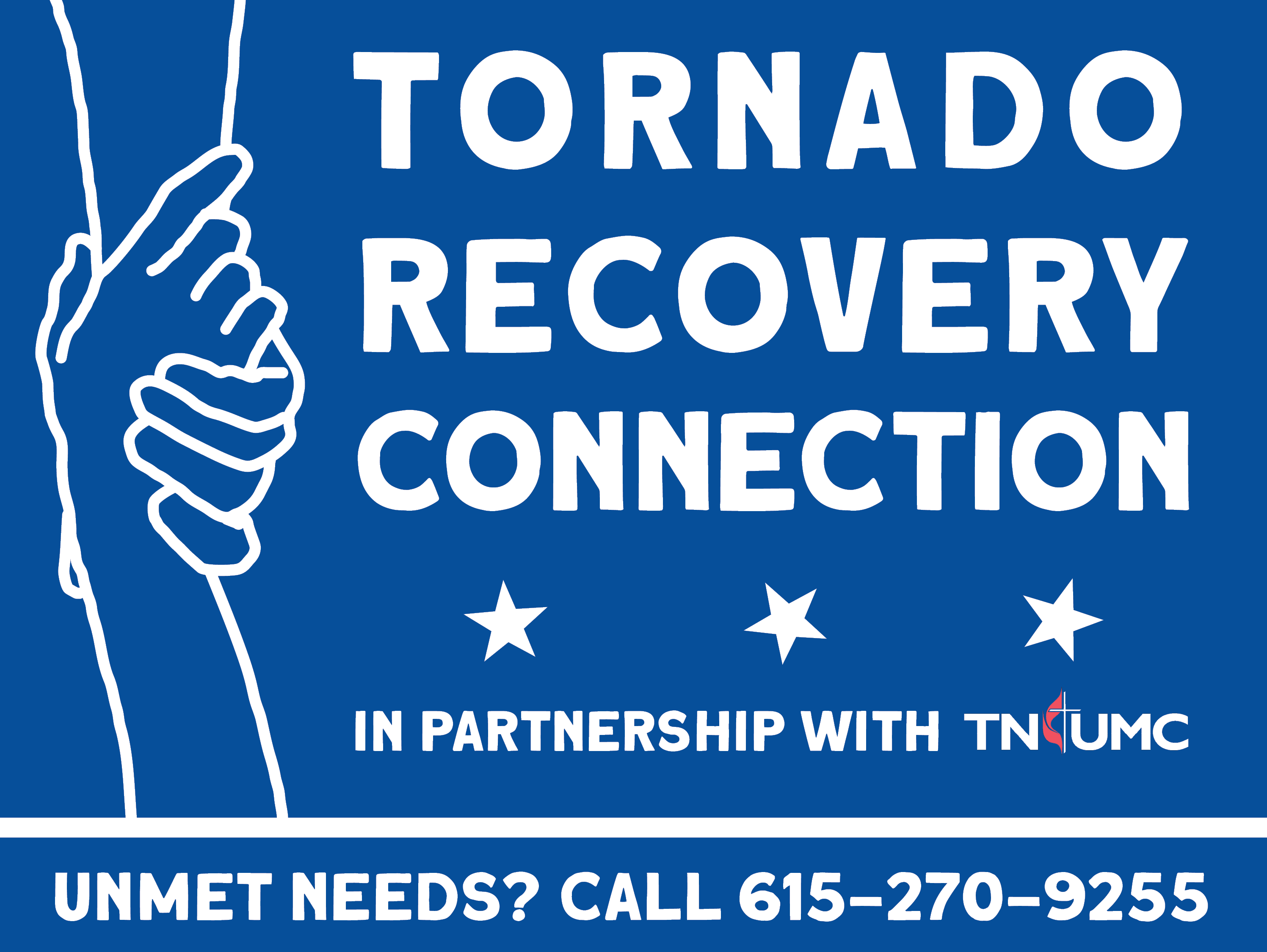 For ongoing updates on what the conference is doing, check out this page: https://www.tnumc.org/tornado/
 
We are grateful for organizations like The Equity Alliance which has been working to prevent rapid gentrification in the area and meet the day to day needs of tornado survivors. We at West End have financially contributed to their #dontsellfoutnorf fund as they support neighbors on the ground with bills that have stacked up from lack of work and tornado repairs. We encourage your contributions to that fund as well. 
 
Please continue to pray for all those impacted by the storms - the work of recovery is long and difficult. Many are in the disillusionment stage of disaster recovery, losing hope that help is coming. For  more information on the emotional stages following disaster, take a look at this chart: https://www.samhsa.gov/dtac/recovering-disasters/phases-disaster:
​​​​​​​
 
We are still in the only donate what is requested stage of recovery.  Money is the best donation because we can use it to buy what is needed most. Donations can be made to the The Community Foundation of Middle Tennessee or U.S. Disaster Response and Recovery through Advance #901670. On the Community Foundation Website, there is more information about items they may need donated. Also, during storms, people often forget the  organizations that still need their assistance for folks that are hungry or homeless. Check in with organizations like Luke 14:12 or Open Table (known needs are tents and sleeping bags) and see what their needs are.
 
To donate specifically to our siblings at East End UMC: 
        https://eastend.breezechms.com/give/online
          There are two funds:
            1) Disaster Relief - Church Needs, and
            2) Disaster Relief - Community Needs.
       Select the fund(s) you want to give to by using the drop-down menu.
 
Keep an eye on our Facebook, Friday E-news, bulletin, and this page.  We may have a need arise quickly without a Sunday to advertise it, so keeping up there is the best practice.
Remember: tornado recovery is a marathon, not a sprint, and there will be waves of opportunites for us to assist. When it's safe to resume being in person, we will have opportunites to host teams coming to long-term recovery clean up and provide them food. As always, pray! If you have first hand information on a need we could assist with, please let us know. Also, here are a few resources to help with care for adults and kids following the storms.